75% of head and neck cancers start in the mouth. 30% of oral cancers are found in the tongue, 17% are in the lip, and 14% are in your mouth floor. The back of your throat, sides of your tongue, and under the tongue are all common areas for oral cancer.
Smoking and alcohol consumption has been linked to oral cancer in the past. This would apply to people over 50 years of age. This type of oral cancer is most commonly caused by alcohol and smoking. Therefore, it is important to increase screening for this patient group. Head and neck exams are done to check the cancer disease.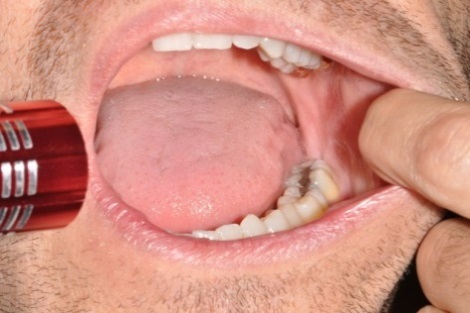 Image Source Google
Cancers are on the rise in 20- and 30-year-olds due to the increased incidence of human papillomavirus (16/18). A general trend is that lesions from tobacco and alcohol tend to be more likely to develop in the tongue or mouth than in lesions caused by HPV.
A screening at every visit to the dentist is the best way to detect early signs of oral cancer. Here's a quick description of the top 10 areas you should inspect and examine (paraphrased with permission from Oral Cancer Foundation).
Extraoral examination
The face: It is important to examine the entire face. You should look for signs of asymmetry, mass, swelling, discoloration, and ulceration. Assess for areas that are pigmented (redd, brown, or black), raised, ulcerated. You should feel the soft tissues, facial bones, and skeleton. Pay particular attention to asymmetry and masses.